Category ········· Print
Completed ······ January 2021
Productivity and Order: Debunking the 9-to-5


This project was a response to the International Society of Typographic Designers (ISTD) 'Putting Things in Order' 2020/2021 competition brief.

It explores the modern-day business model of an 8-hour work day, its origins and initial purpose, its problems, and its alternatives, providing an argument for its abolition.

This project integrates archival imagery, typographic design, photo editing and annotation, for a corporate and industrial feel.

The outcomes for this project consist of a 70 page publication, several pages of which can be seen here and two typographic poster variations, shown below.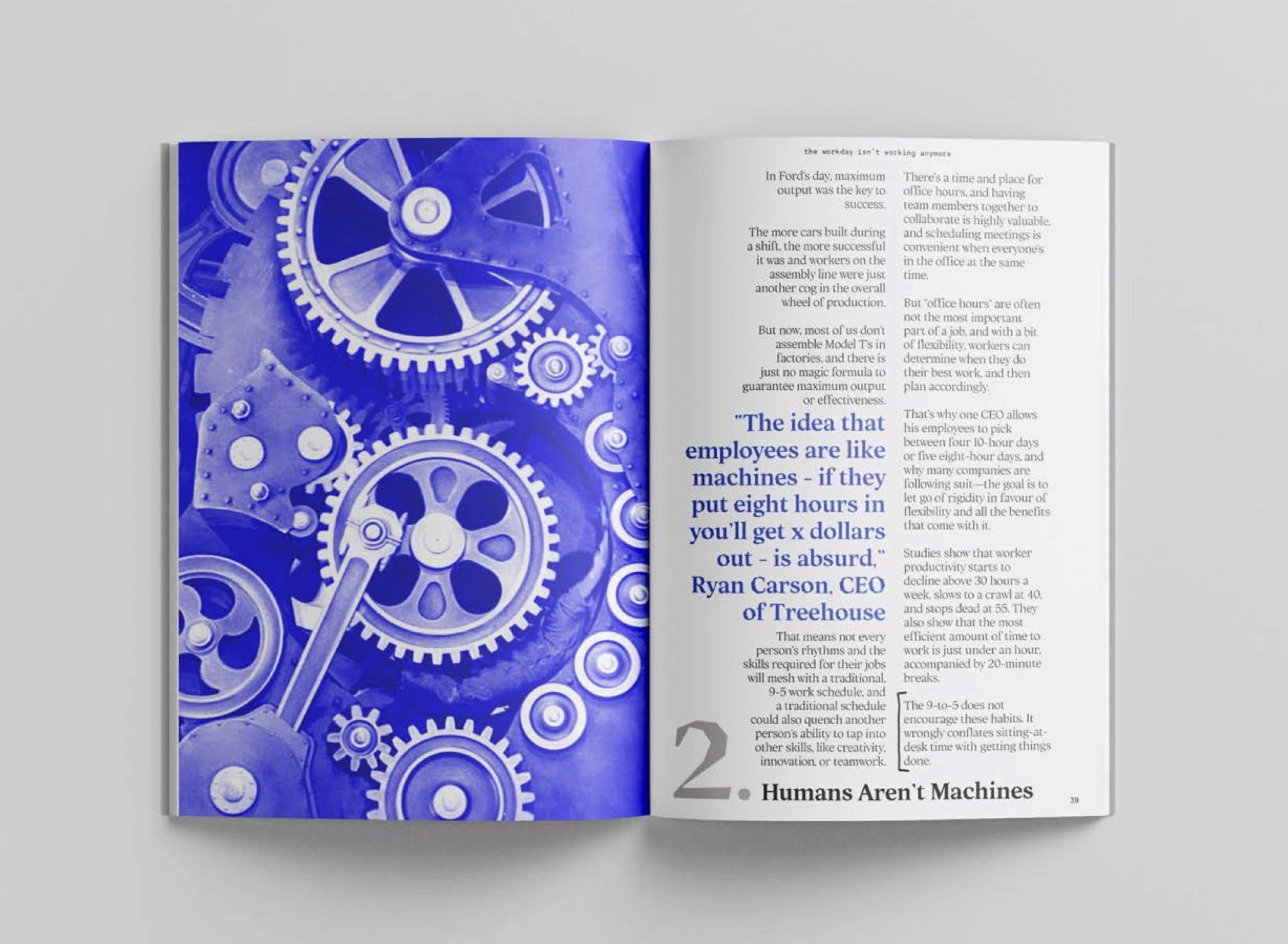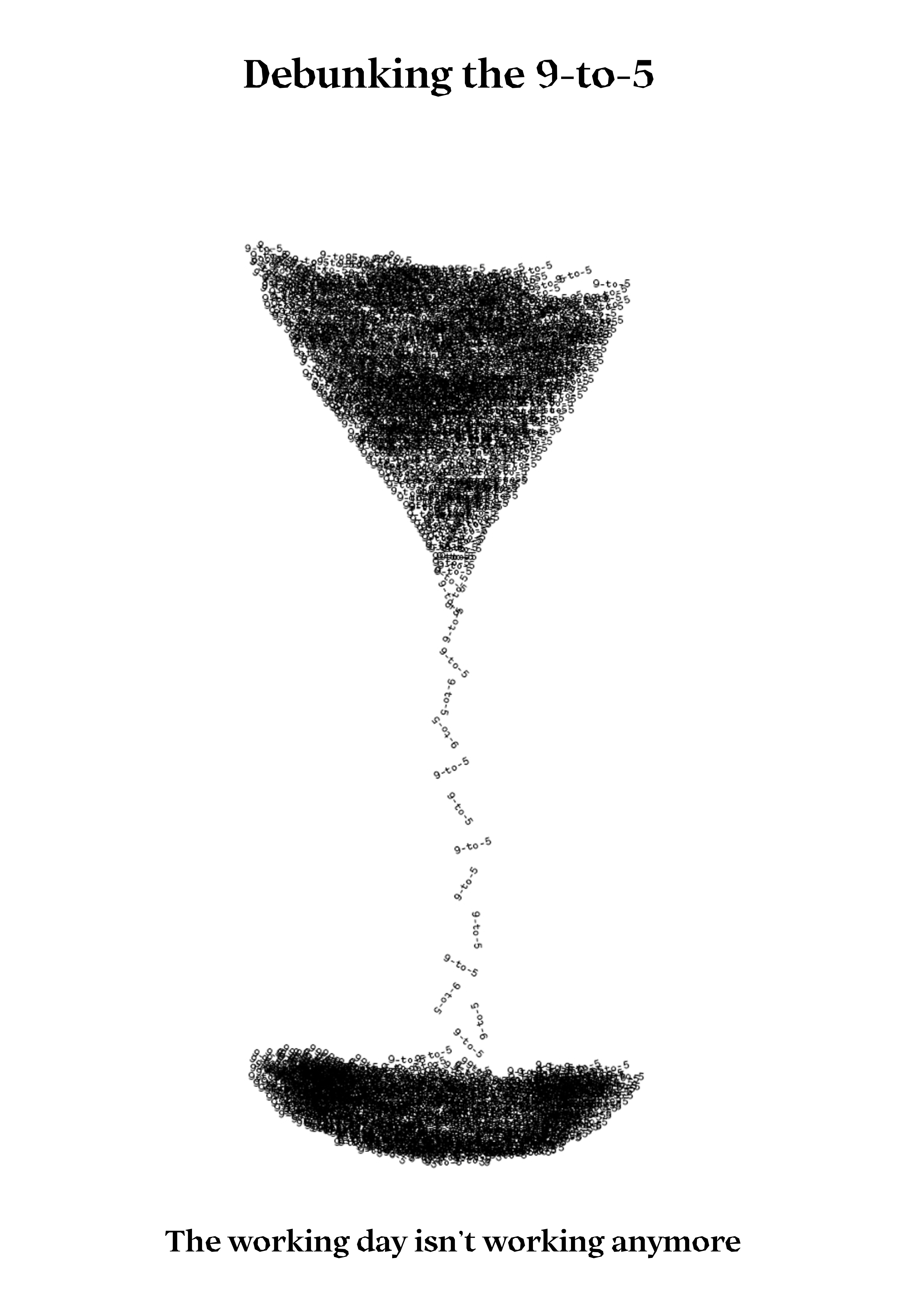 Category ········· Print
Completed ······ November 2020
Arson Flipbook
A flip book demonstrating how quickly a fire can escalate in the home if a child is left unattended with matches.


The flip book aims to demonstrate in real-time and (near-accurate match scale) how quickly a flame sparks from a match.

It is accompanied with statistics on domestic fires to encourage parents to hide matches from their curious children.
Category ········· Print
Completed ······ June 2021
Ms.Understood, Miss.Diagnosed, Mrs.Treated
Taking a closer look at the issues of gender bias in health and medicine, this publication illustrates the extent to which medicine favours men, 'from root to tip'.

This publication combines content from the book 'Invisible Women' by Carolina Criado Perez and digital graphic illustration, and the aim was to integrate the information into the imagery.
Category ········· Print
Completed ······ June 2021
A Mile in Her Shoes
The death of Sarah Everard this spring highlighted what is, for many women, their deepest fear, and was the catalyst for an outcry of women expressing their horror towards the tragedy, and the fear we collectively live with, at the thought of finding ourselves in a similar position.


This publication combines art directed and edited photography with typographic testimonies from women sharing their experiences and fears being alone and out at night as a woman.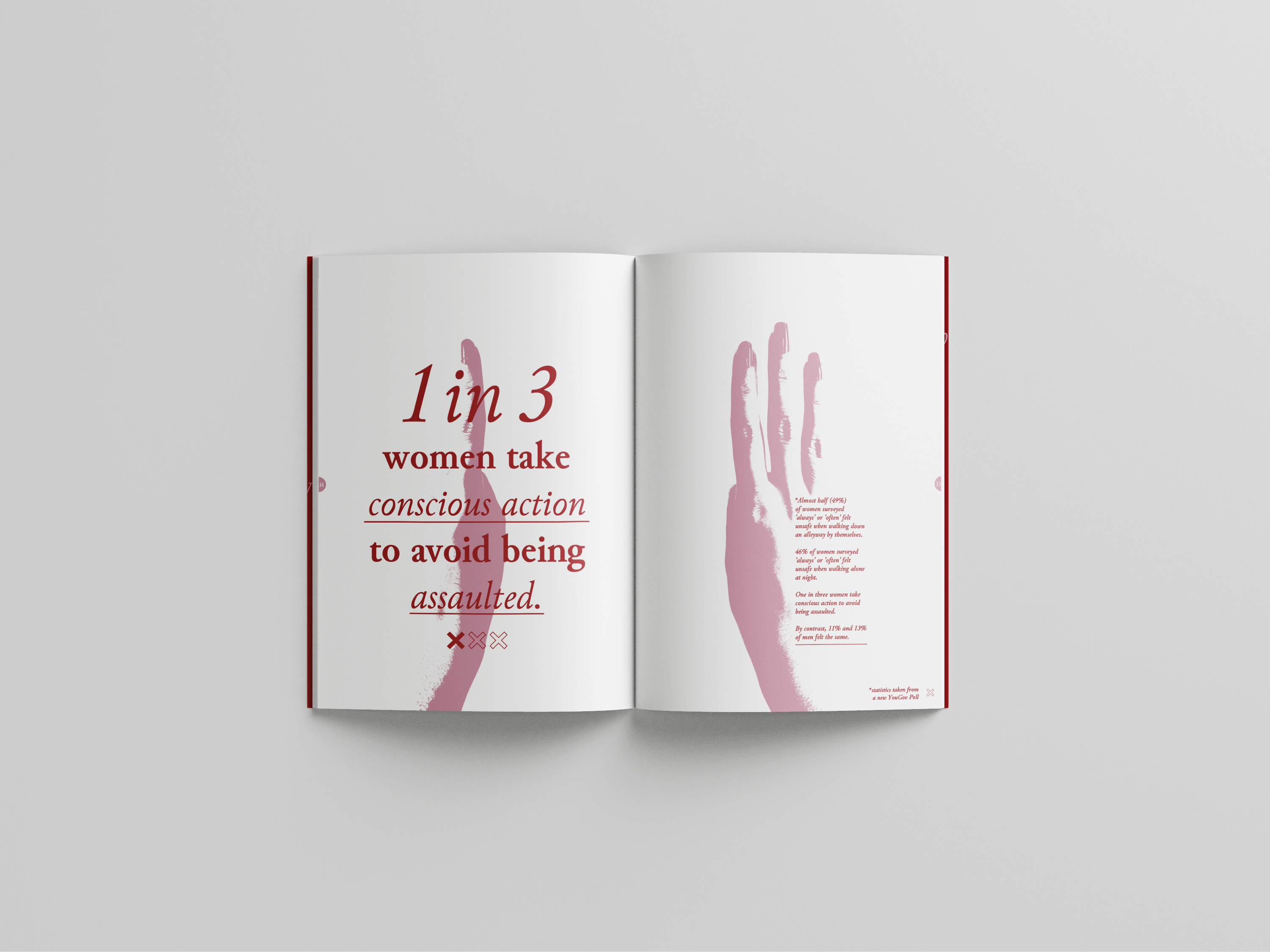 Category ········· Print
Completed ······ December 2020
Keeping Your Child Safe Online II

This short publication uses content from an interview with my mother to explore how my parents attempted to keep me safe online whilst growing up.

It uses simple and retro-digital styling in the illustration and typefaces, as a nod to the times in which I grew up, and the computer interfaces I saw as a child.
Category ········· 3D, Photography
Completed ········· March 2021
Home is Where the Fire Risk Is

A hand-stitched cross-stitch piece, this piece is a playful take on the vintage style 'Home Sweet Home' cross-stitch art you might find in your grandparent's living room.

It speaks to the dangers that domestic fires pose to households, and how easily things can go wrong.

The design outcome following this manifests as an art directer photograph, using vintage stying to compliment the art style of the piece.
Category ········· Print
Completed ······ January 2021

Suffocating Safety

During the pandemic, we have seen growing frustration with measures put in place for our safety. Whilst they might be comforting to some, to others they feel oppressive, and suffocating.

This art directed series realises that visually for its audience.
Category ········· 3D, Packaging
Completed ········· December 2020
A Souvenir for Your Safety
Another project within the fire safety theme, and this one aims to create a solution to the problem.

I was inspired by vintage matchbox packaging, and the design is combination of illustration and product design.

This matchbox packaging is not only more engaging than typical matchboxes, but holds a message about its dangers, and a more complex design aims to limit a child's ability to get a hold of its contents.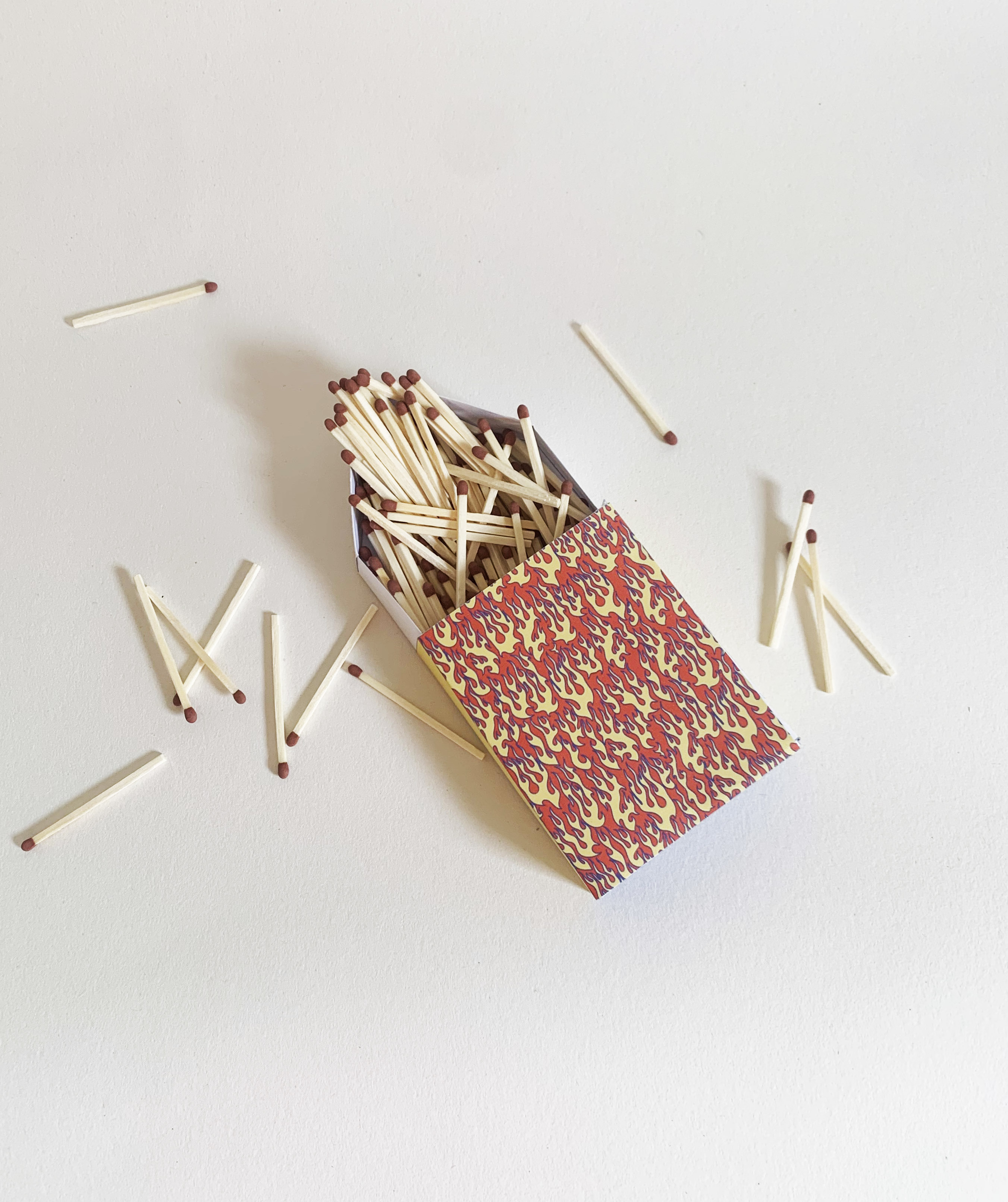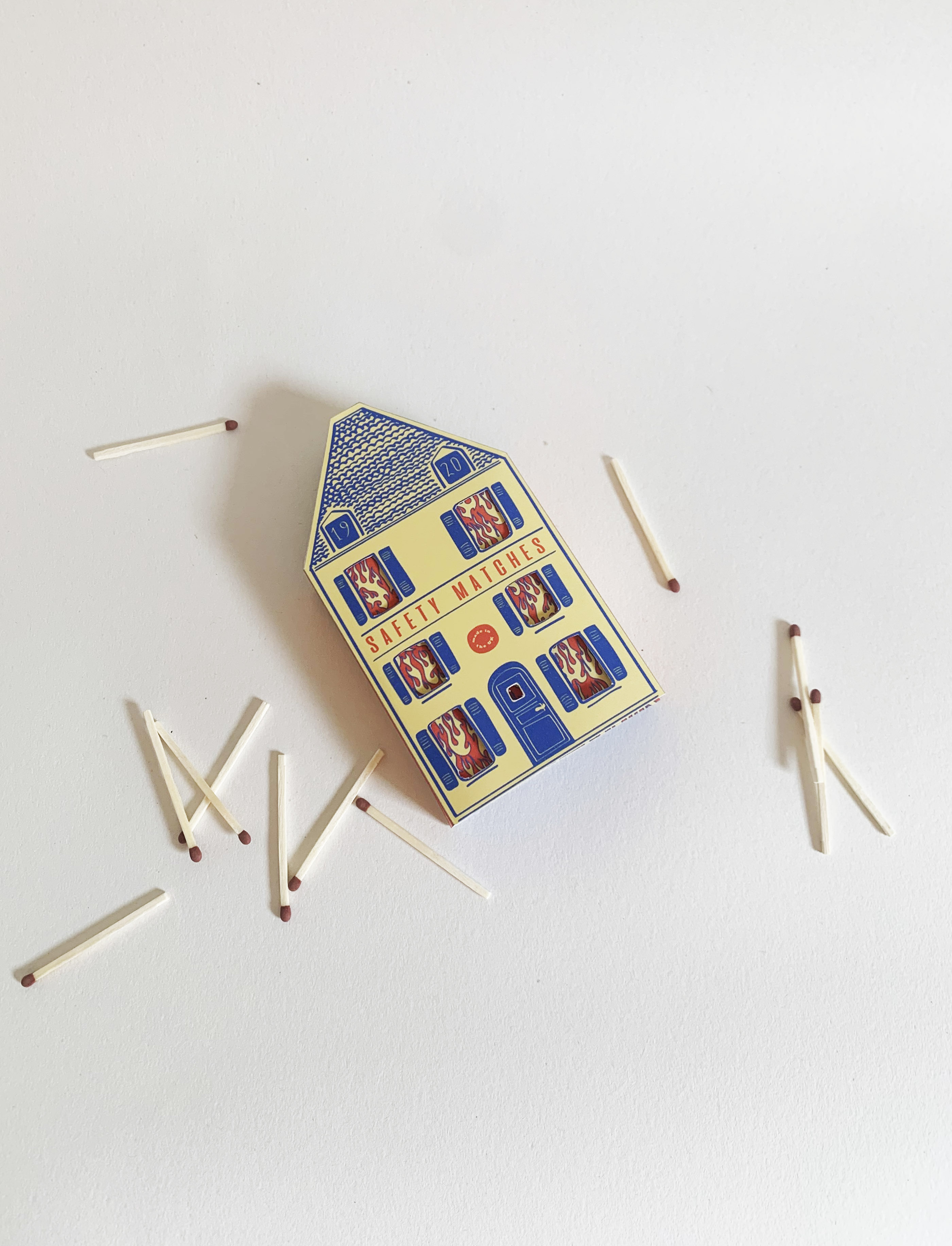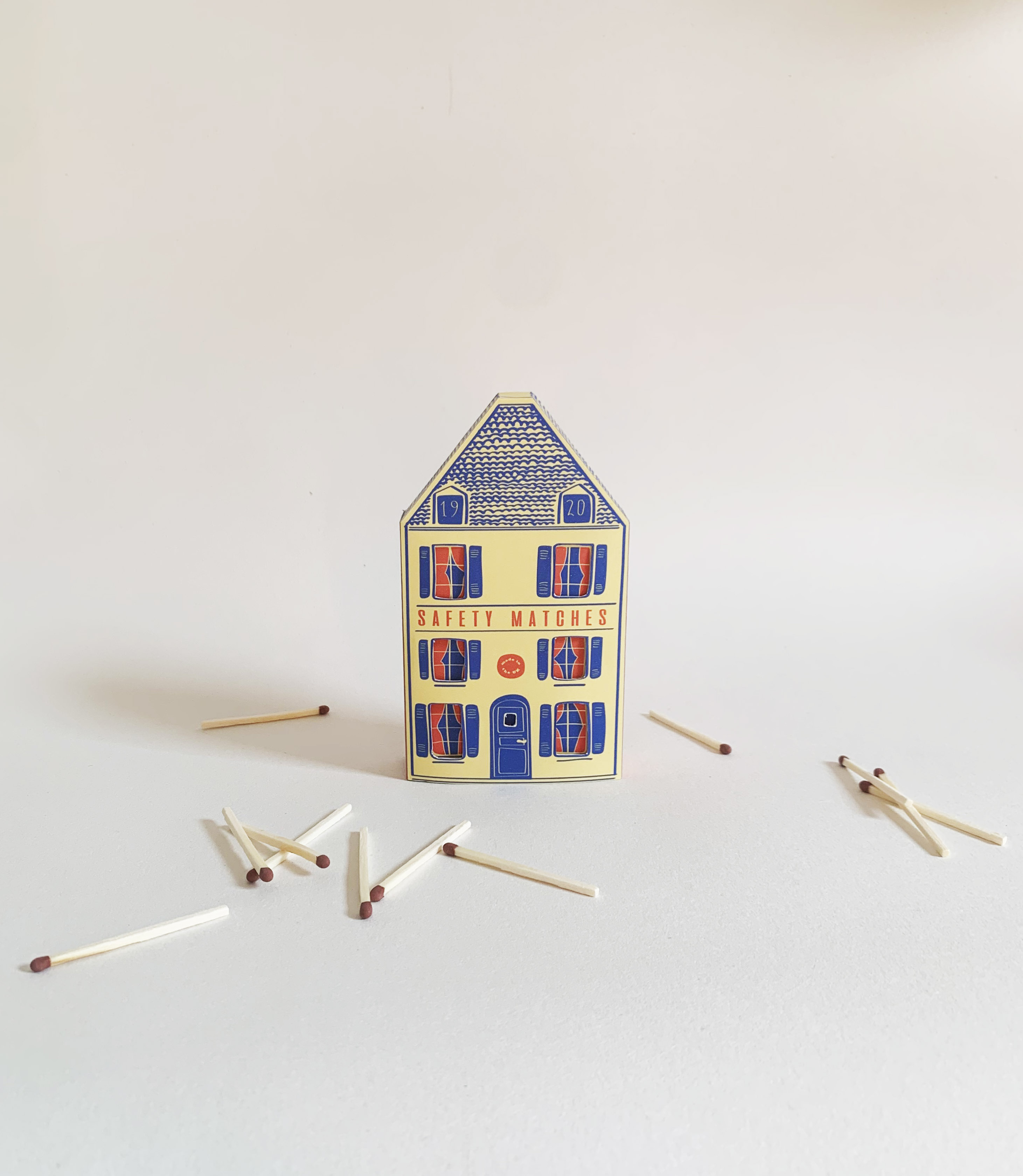 Category ········· 3D
Completed ········· March 2021
The Price to Pay for Safe Sex


Designed to be viewed in multiple formats, this project is a breakdown of the extensive risks women take for the sake of safe sex, in taking birth control medication, a stark reminder of how often being a woman means making personal sacrifices.

The NHS might make this medication cheap and widely accessible, but the real question is why must it just be women who pay the price for wanting safe sex?

Must the burden always fall on women's shoulders? It seems a burden that is far from evenly shared.

The project series includes a three-dimensional receipt roll, listing the main side effects of the pill on repeat, a large scale poster version to demonstrate just how extensive the list is, and a twin pack of underwear, one printed with the receipt simplified, and another with a kaleidoscopic print of a pill packet, to illustrate the subject better.
Category ········· 3D, Packaging
Completed ········· December 2020
Home
is Where
the Safety Is

When considering safety from a psychological perspective, safety feels like home, it feels like comfort and protection from the outside world to many of us, shutting people out and locking ourselves in.

This three-dimensional model integrates a house into the shape of a lock and key to demonstrate visually what safety looks like to many of us.
Category ········· Poster, Leaflet
Completed ········· May 2021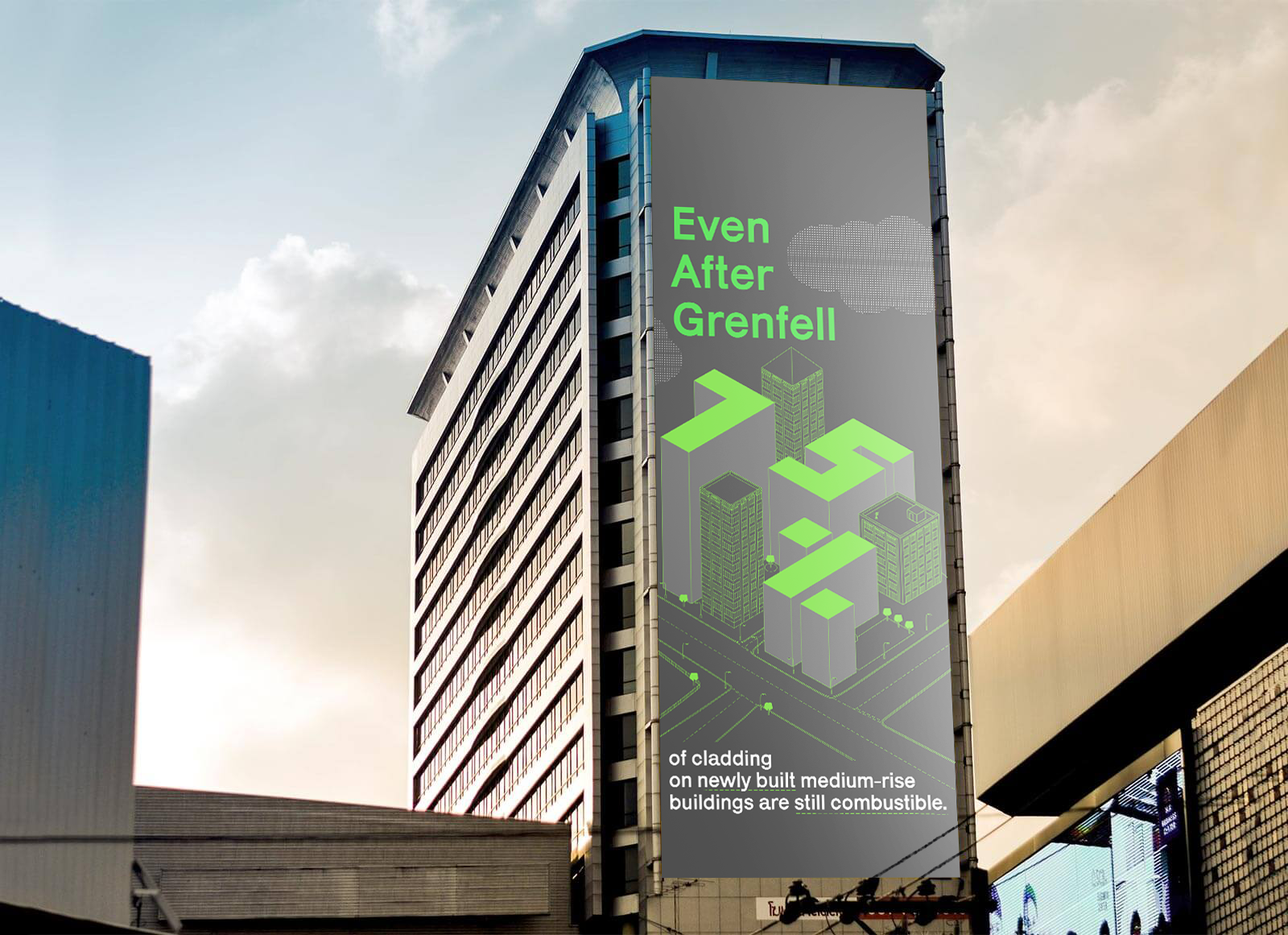 Even After Grenfell

To commemorate and honour the 72 lives lost in Grenfell, for this project I decided to review what has changed four years on from the disaster. The truth was - not enough.

This poster, leaflet combination is designed to demonstrate that not enough has been done to prevent this disaster from reoccurring.

The leaflet is designed to fold and stand up as a model of the tower, pre-disaster, with 72 blacked out windows for the 72 lives lost, whilst the poster is designed for large scale viewing, blown up to billboard sizing.

Category ········· Poster
Completed ········· December 2020
Objects of Safety

This poster uses scanography to document everyday objects a person may carry around for safety.

As the text suggests, everyone's version of safety looks different, but this poster aims to encourage its viewers to consider about just how much thought for their safety goes into their choices of belongings to carry around with them.

Is it less than in this poster, is it more?
Category ········· Poster, Leaflet
Completed ········· January 2021
A simple poster with some food for thought on the theme of safety. Designed to be large scale, with the wet-floor sign to scale.
Category ········· Poster
Completed ········· May 2021
Perspectives on Privilege
Extremely relevant to the current times, these posters individually target those who feel threatened by and aim to hinder conversations on oppression and equality.

Both are interactive and designed for an exhibition style viewing experience. Fig 1, Equality/Oppression/Privilege, is three-dimensional, designed to show one message when viewed from one angle, and a contrasting statement from the other.

Fig 2, Searching for Oppression, is designed for viewing with a red lens to reveal the hidden message.
Category ········· Poster, Typography
Completed ········· March 2021
Fears and Limitations


A short poster series on experiences as a designer, of collective fears we face.

Namely, imposter syndrome and perfectionism, and offering a solution for these fears. combining simple imagery with playful typography.
Category ········· Video
Completed ········· January 2021

A conceptual proposal presentation for my final project on the theme of safety.

The visuals explore physical safety whilst alluding to the psychological effects safety measures can also have, presenting as both comforting and suffocatingly oppressive at times.

Click here to open vimeo link ︎
Category ········· Video
Completed ········· June 2021
Allow Me to Introduce Myself
A short self-promotional video based on a university workshop conversation, art directed, filmed and edited by me, scripted and narrated by Jenny Li Voon.

Click here to open vimeo link ︎
Category ········· Animation
Completed ········· March 2021
A follow up to my interview publication detailing my parents attempt to keep me online.

With the pandemic leading to a rise in virtual learning, children have never been so likely to have such a broad access to the internet, and the home environment does not always provide the constant monitoring that a classroom would.

This animation aims to teach primary school age children how to keep safe online so that they can make safe decisions for themselves.

Click here to open vimeo link ︎
Category ········· Branding
Completed ······ June 2021
Learning About Learning Difficulties
Learning Difficulty Education is somewhat lacking, both for parents and educators, and for children.

Why is this so important?

Because learning about neurodivergence at a young age promotes inclusivity, encourages early diagnosis to ensure support for children's individual needs starts early, and helps curb bullying of and self-esteem problems for those who are not neurotypical.

This child friendly information pack tackles symptom identification, education on learning difficulties, and diversity and inclusivity promotion.
It includes a storybook explaining learning difficulties and how they might affect oneself or their peers, an Adults Guide to Use, Gender Specific Symptoms Checklists and a Poster Series.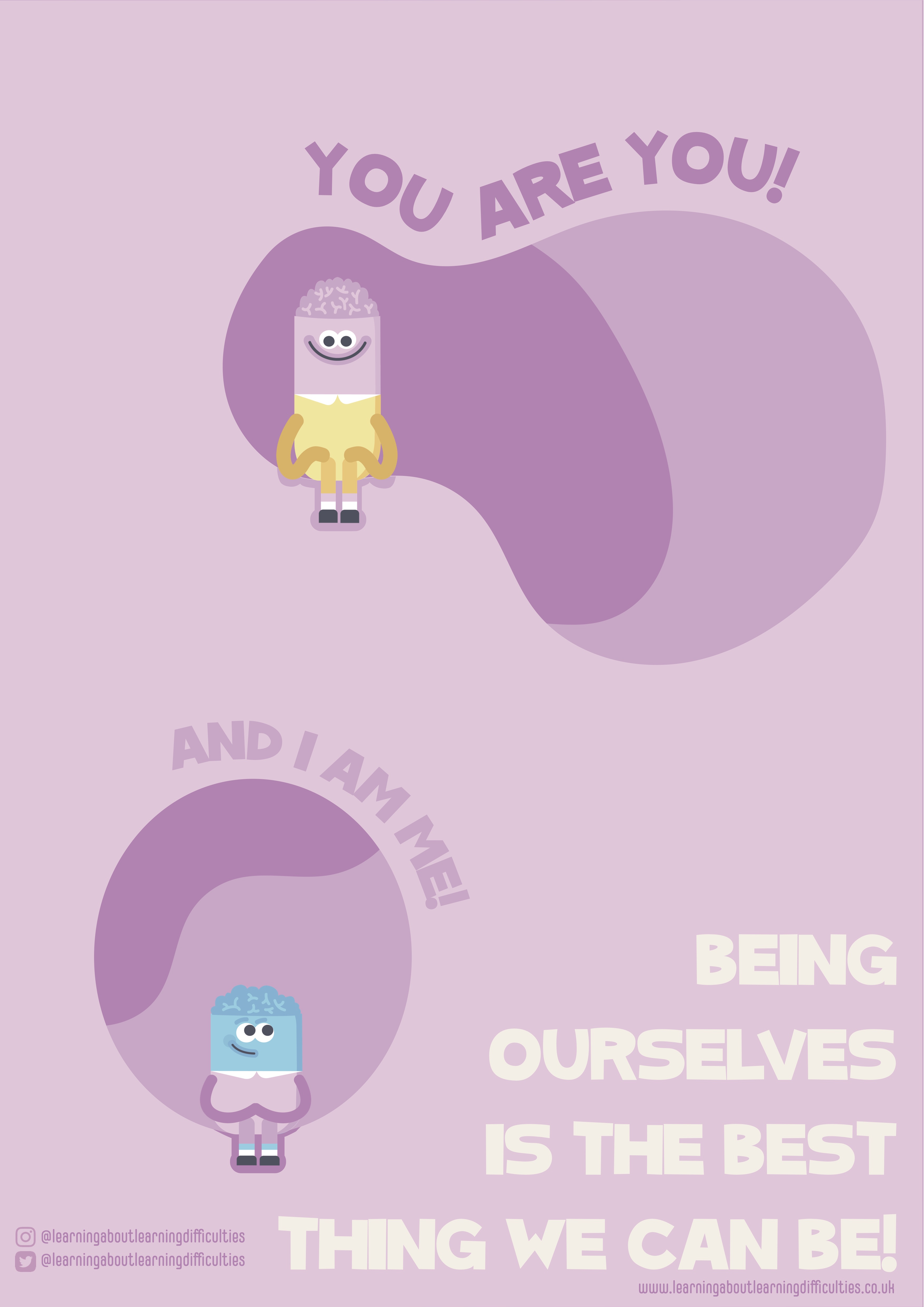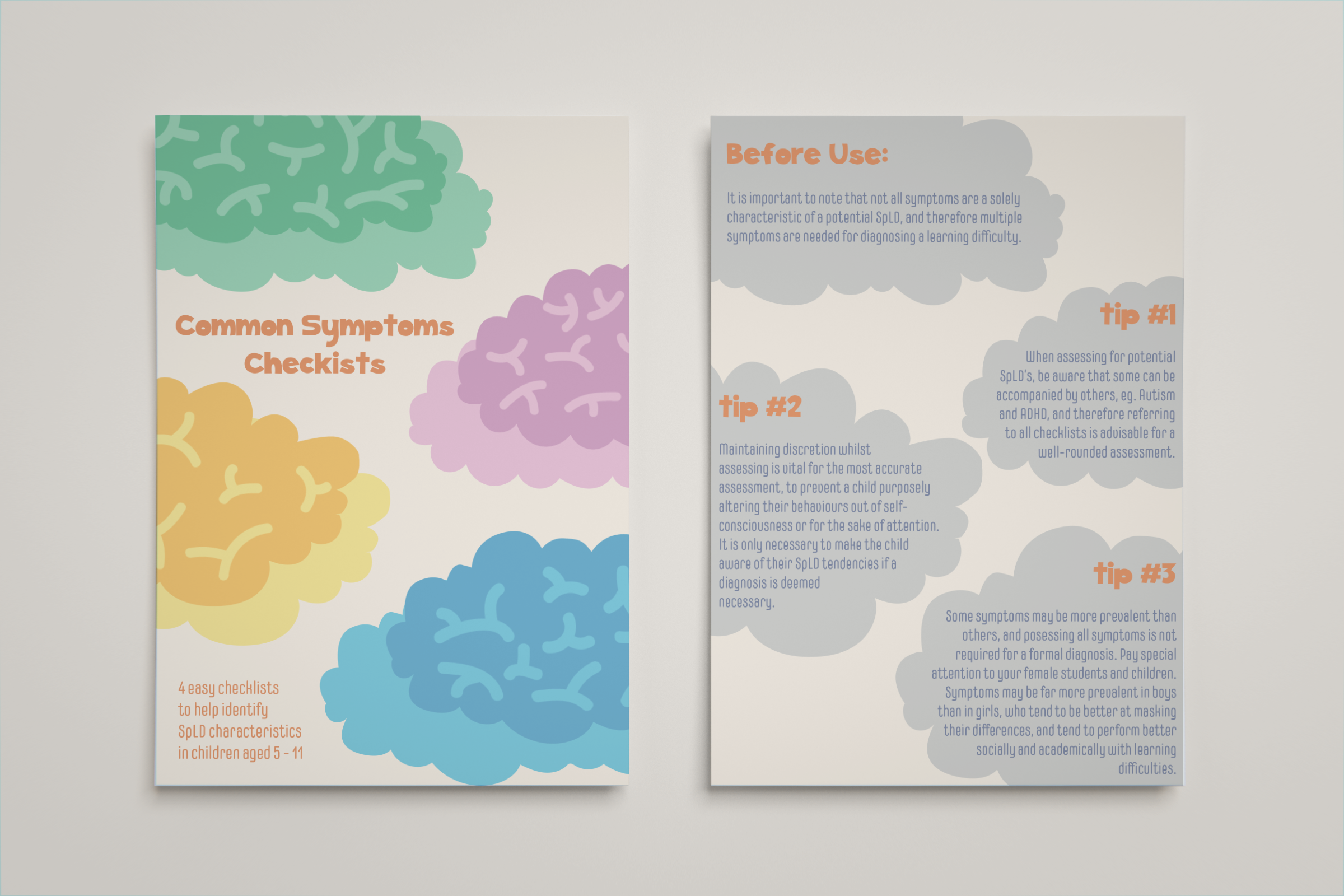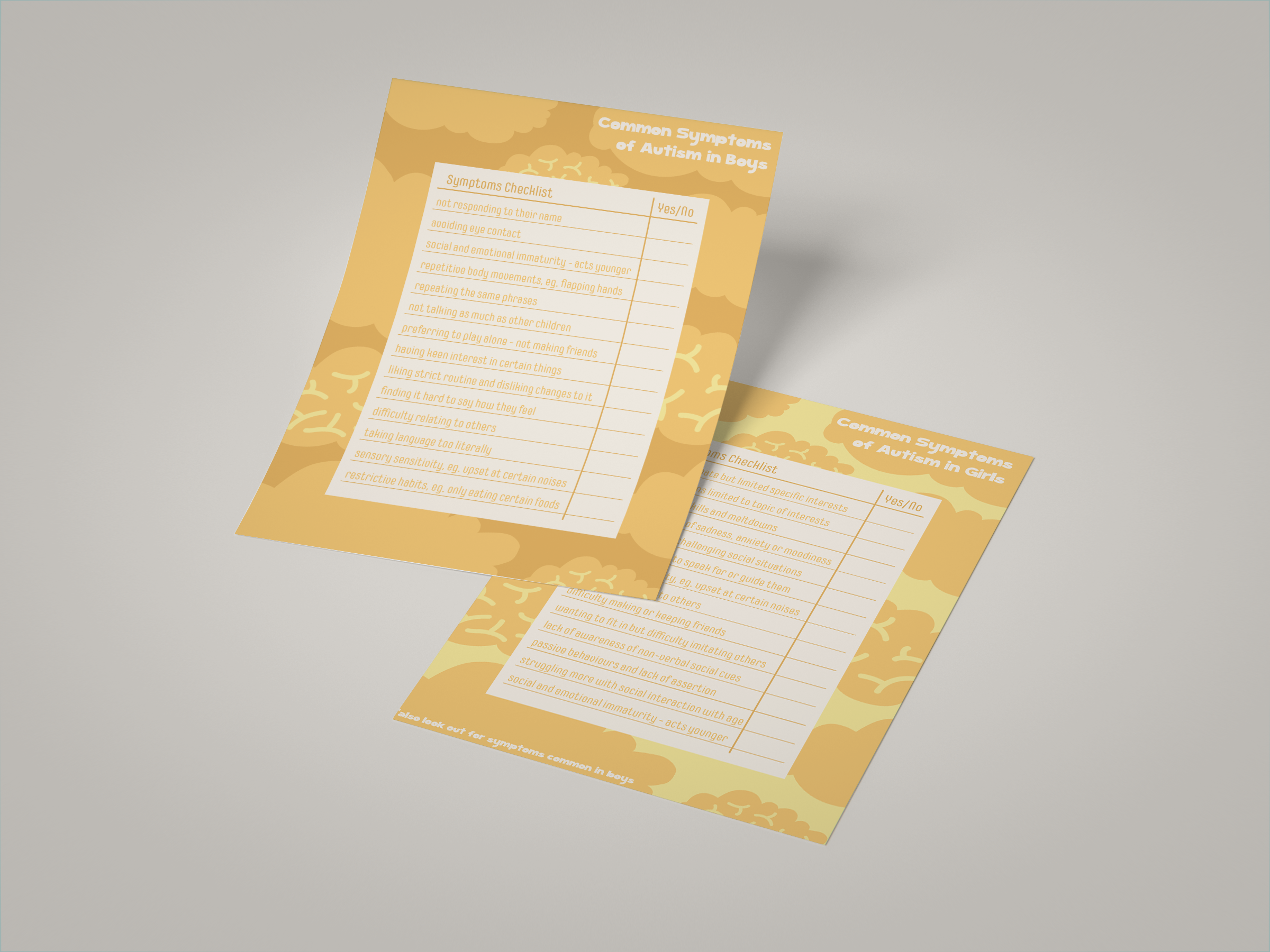 Category ········· Branding
Completed ········· March 2021-Present
Brandon Trust


A collection of highlights from my time as an intern, and later a Junior Designer at Brandon Trust, a charity that supports adults with learning disabilities and autism

My priority with my work at Brandon Trust was to help create a stronger sense of brand identity.

This identity is centred around accessibility, due to the nature of the organisation, but also simple illustration which aims to help represent those with learning difficulties, who are some of the least-represented in our society.
Category ········· Publication
Completed ······ August 2021
Annual Report
Locked Down but Living Free: Thriving against Adversity - how Brandon's community has re- defined 'live free' to flourish in Lockdown

My concept for the theme of the 2020-2021 Annual Report was inspired by the experiences many of us shared during the pandemic.

It was a dark time for many of us, but also a time that forced many of us to grow despite the harsh conditions, and spend more time than ever outside in our gardens. Instead of focusing on the hardship of the year, we reflected on all we had cultivated over the that year, making the narrative and acompanying visuals lighthearted and uplifting.

This design unifies the theme of growth and its visual associations, and our shared experiences of time spent outdoors.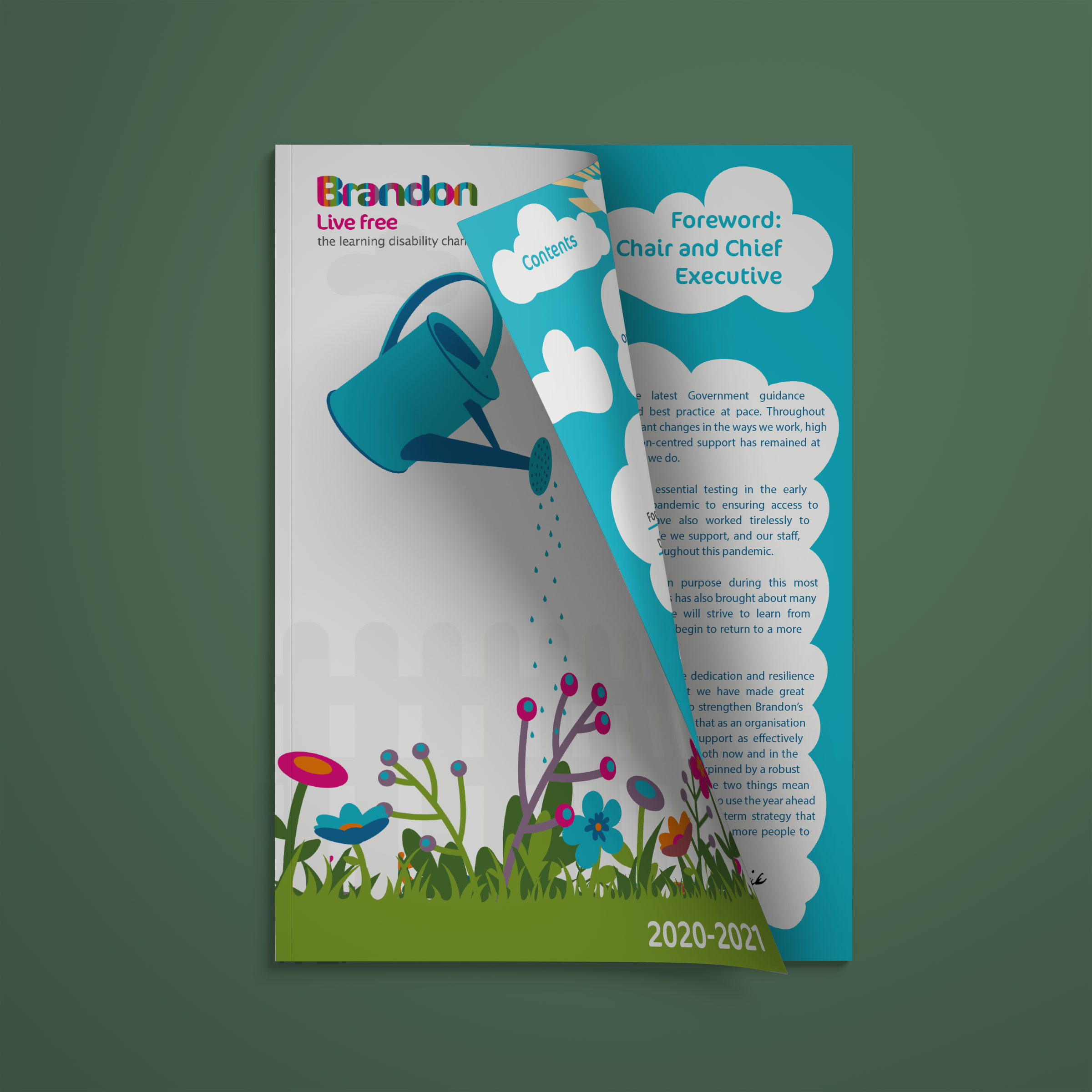 Category ········· Branding
Completed ········· July 2021
Social Media Suite


Injecting some brand identity into the social media presence of Brandon Trust

To provide a greater sense of flow and consistency to the charity's instagram page, I created a series of templates, with multiple interchangeable variations of each.

These designs each serve a different purpose and function.
The templates consist of a photo frame design for every day photo posting, a quote design for short pieces of text and a carousel design, which provides space for sharing more information, with these templates created for use across Instagram, Twitter, Facebook and Linkedin, in the appropriate dimensions.
Check out their social media using @brandontrust
Category ········· Logo, Illustration
Completed ······ August 2021
HR System Logos
Creating visual identities for the new HR systems, B-Hive and B-Safe

This project started with B-Hive and later extended into B-Safe.

The intention was to create imagery that provided a subtle nod to the B theme, whilst incorporating the theme of community, inkeeping with existing brand identity I have produced for the charity

I created an abstract bee hive shape for the main logo, and replaced the hyphen and 'i' dot with a hexagon shape, as a nod to a honeycomb

The subsequent B-Safe designs were created to closely mirror the style of the B-Hive designs.